A comprehensive guide on 'Descriptive Writing'
A comprehensive guide on 'Descriptive Writing'
For descriptive writing, the essay needs to summarize or describe a topic using suitable details and facts. Here, the description can be about some place, thing or person. The only motive of providing this description to the story is to create a picture in the reader's mind.
In order to make your essays look more interesting and engaging, you must practice writing your essays in a descriptive manner that can eventually enhance your writing skills. If you are to describe an event through descriptive writing, then you must prepare a close analysis of the event with minute details and perspectives.
Descriptive writing tends to stimulate an appealing structure with exceptional power to influence readers, which is why readers are able to understand your thoughts clearly because of the way it has been presented and described. The writer uses this power of writing to strengthen the reading experience; and if it comes out to be effective, then the reader can relate himself with writing and connect with it using the emotional aspect.
Here, the writer must describe things from his own experience and thoughts, employing the correct usage of words and phrases. Characteristics of Descriptive Writing Good descriptive writing uses specific nouns and adjectives to set up a picture in the reader's mind. It makes use of sensory details and emotional aspect to showcase a picture that is appealing to the readers.
It should be presented in an organized manner using actions, thoughts, feelings, and physical description of the person, thing or place. It needs to be evocative, concrete and plausible. It also makes use of figurative language in its content, like metaphors and analogies so that readers can understand it easily.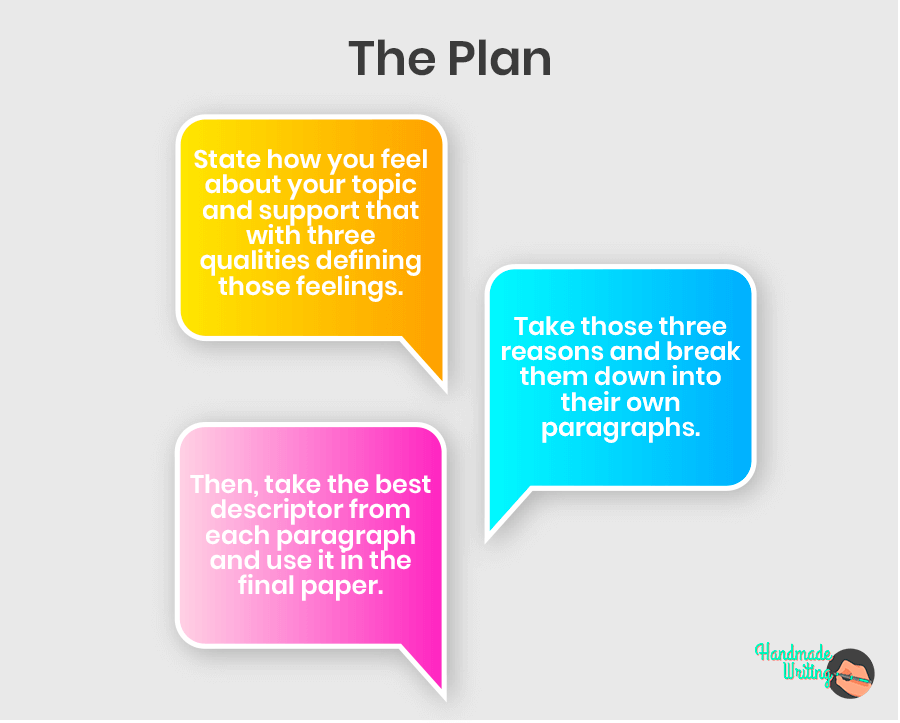 Steps for writing a Descriptive Essay Select your topic:
While writing, the writer must make sure that he conveys the meaning of the topic by describing things in detail that makes a great impact on the minds of the readers. The introductory paragraphs should build a tone that sets up your ideas for better explanation.
Create a thesis: With the help of your thesis, you can establish the purpose of your essay. This will also regulate the flow of your writing, thus conveying the message correctly to the readers.
List the senses: Here, you must create a column for describing your five senses. These columns will further help you to analyze your thoughts and opinions as you describe the topic. All you need to do is mention your feelings and sensation while writing, supporting it with all the required sensory details. For this, you can make use of tools like similes, metaphors and personification.
Create an outline: You must create a proper structure for your essay that lists the details of the analysis. The essay should follow the structure that includes introductory paragraph, thesis statement, body paragraph and arguments that support the essay.
Write the conclusion: In this section, you must summarize the entire scenario of your essay. It should also offer some content that reconfirms your thesis statement. This is the final most section of your essay, where you end with a well-written and maintained content so that the readers are persuaded to read till the end.
Review and edit: After you have finished writing with your content, the next thing that you need to do is proofread your essay, to avoid any mistakes or errors made in it. Also think, if the paper makes sense to the readers and their purpose. You can even allow your friends and colleagues to read your essay and be ready with their valuable feedback and criticism. Check for any spelling mistakes, punctuation and grammatical errors in your content. Rectify those mistakes before you submit the final copy to your professor.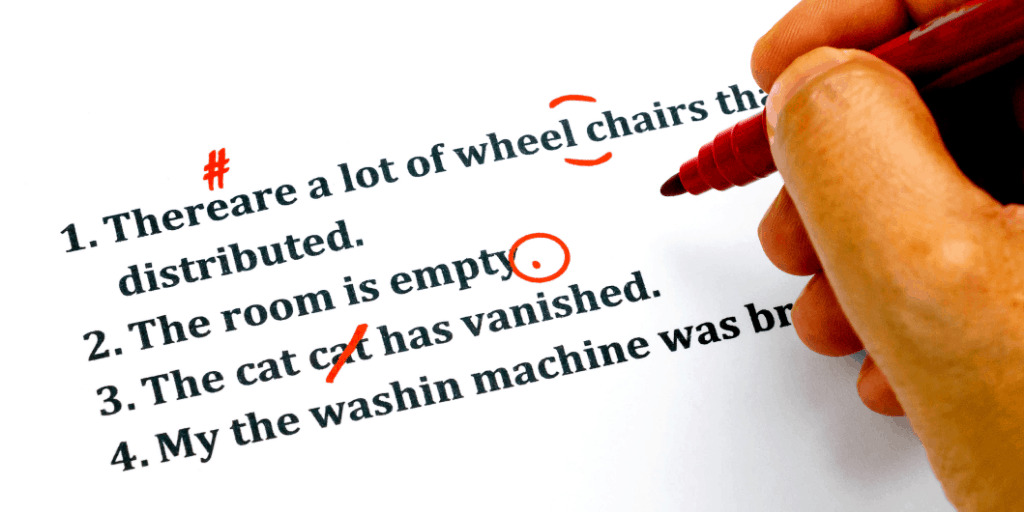 Make sure that the final product is ready to publish. Techniques for Descriptive Writing Brainstorm about new ideas: Think about some ideas that can be useful for your content. Compile a list of each idea first, and then add them accordingly as per their relevance and need.
Use precise and succinct language: Make sure that you make the right choice of words and phrases in your content that fits well with the topic of your story.
Choose expressive language: Choose the language that has the power to influence the readers. Expressive words make a firm vision in the minds of the readers. While describing things in your content, make sure that it is quite captivating for the readers to understand it easily.
Make a clear impression: Make a clear impact on the minds of the readers about your topic, and the message conveyed to them. So, this was all about the essay that depicts the form of descriptive writing. Apart from this, if you face any difficulties in any kind of essays you write for your academics, make sure that you lookout for some relevant online essay writing services that offer high-quality content with great authenticity and plagiarism-proof theory.
A comprehensive guide on 'Descriptive Writing'
Welcome to academic-answers.net
Our professional essay writing service is
renowned for being the best there is.
Our Commitment:
*100% Original work, Authentic papers, 0% plagiarism
*Affordable prices and great discounts.
*24/7 Support
*Free revisions
*Quality work within your set deadline.
Whatsapp: +1(951)901-6064
https://wa.me/19519016064
A comprehensive guide on 'Descriptive Writing'